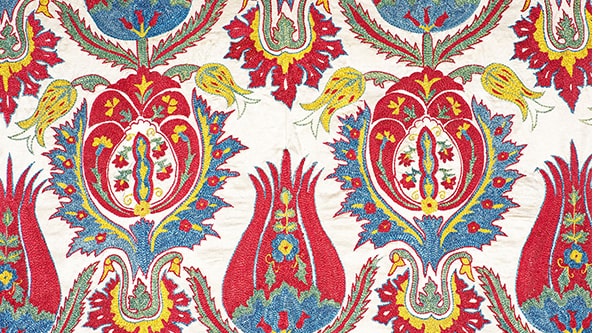 You might be surprised to learn that the term "suzani" doesn't relate specifically to rugs. It's actually a type of Central Asian embroidery that refers to very intricate designs. And that "suzani" itself is actually a Farsi word meaning "needle."
What is the History of Suzani Rugs?
Suzani embroidery was actually done by brides in far-off countries like Iran, Uzbekistan and Kazakhstan, done as a way of showing her potential husband that she was skilled in the household arts. Modern brides, of course, no matter what country they live in, tend not to do that anymore. And so, suzani is now a highly prized art.
Even though brides no longer typically practice the art of suzani, the design elements themselves still have huge appeal. The motifs are very attractive, with elements of flowers, fruit, birds and wildlife, and as you might expect, they translate beautifully into rug design.
What is the Appearance of Suzani Rugs?
To duplicate the delicate imagery of suzani, rug makers typically use the "hand hook" method. This is because hand hooking, using an implement that's something like a crochet hook, delivers a very distinctive texture, and also comes very close to replicating the hand-embroidered look of traditional suzani. The "hand hook" technique has been used since the early 1800s, especially in New England.
How to Care for Suzani Rugs
One of the best things about suzani rugs is that they're very easy to take care of. If you're dealing with a small rug that's made from synthetic fibers, usually all you have to do is machine wash it using the delicate cycle, and hang it out to dry. This can even be true when it comes to rugs made from washable wool.
Large suzani rugs, though, might require professional care.
If you have a suzani rug, and you're wondering how to care for it, you can trust the experts at NYCleaners. We know all types of rugs, inside and out, and we will be happy to talk with you and recommend the best treatment for your cherished carpet.