Woven in Central Asia, Bokhara rugs are typically made with wool fibers on a cotton backing. Sometimes referred to as Turkmen rugs, these floor coverings often have an intricate pattern on a red or beige background. Available in a range of sizes from very small to room-sized, these rugs were originally made by nomadic tribes, but are now often made in workshops by skilled artisans. A combination of natural and synthetic dyes is used for the most part, which means that cleaning these rugs could turn to a complicated process.
We Understand Your Bokhara Rug
Large rugs are magnets for every kind of dirt that can be tracked into the home, and can not only cause your Bokhara rug to look grimy, but will also cause it to wear out more quickly. At NYCleaners, we can provide cleaning expertise that will not only restore the vibrancy of your rug, but also extend its life.
We offer several invaluable things to our clients: trained and experienced oriental rug cleaning staff, green cleaning solutions, and a modern rug treatment facility.
 We will pick up your soiled rug at your residence and return it to you fresh and clean. What could be more convenient?
We're Only a Phone Call Away
Call our customer service today to schedule a home visit, rug inspection, and no-obligation estimate. NYCleaners is the place you want to rely upon for all your oriental rug cleaning needs.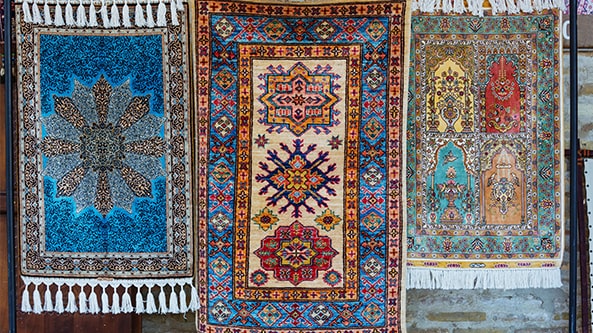 Bokhara Rug Cleaning
Average rating:
5 reviews
Oct 18, 2020
Brilliant work and client care
I needed to give incredible props to the staff of NYC cleaners for working really hard on my Bokhara rug. If at any point I need the services ever again, I will definitely hire him. Our rug, albeit 17 years of age, looks incredible. Brilliant work and client care. 10/10
Jul 25, 2020
I'll highly recommend them to anyone
Great outcomes! Exceptionally content with the service and the courteous staff-fellow who finished the work. My hubby and I as of now are consenting to have NYC cleaners back out in a half year for another Bokhara rug and upholstery clean. I'll highly recommend them to anyone, anywhere, anytime.
May 5, 2020
I'm so amped up for the work on my Bokhara rugs
I'm so amped up for NYC cleaners and the work they did on my Bokhara rugs. They did an amazing job as I had got the carpets cleaned after a long time. They got stains out that had been there for quite a long time and my rug looks so great. I'm alluding them to all my friends & family. Appreciated!
Mar 1, 2020
Exceptionally dazzled with their demonstrable skill
Recruited NYC cleaners to tidy up rug in 4 rooms of a house that I was moving into including two Bokhara Rugs. The individual they sent was incredible. He pointed to the rug that should have been extended simultaneously. He worked really hard and I was very happy with the services provided. Exceptionally dazzled with their demonstrable skill and would suggest them profoundly!!