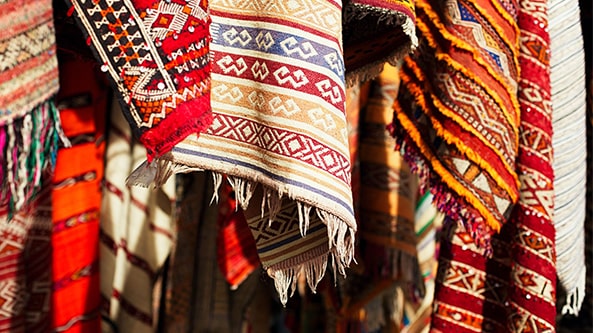 If you want the height of opulence and culture, a Moroccan rug is the right choice. These carpets have an exciting past and future. They were made with intriguing techniques that keep them from becoming irrelevant, which we look at further on this page. For information and history of Moroccan rugs, read on. We will see firsthand the details that go into such an important piece.
These carpets are so old that their exact year of creation is unknown, only that it has been many hundreds of years, dating back as far as the stone ages, many believe. They do of course, hail from Morocco, and were created by clans that needed no formal teaching. They simply shared their knowledge with their fellow rug makers.
Moroccan Rug Materials and Details
These rugs were made practically, with the weather in mind, and were created for flooring, not art. Two types of rugs were distinctive, though there are many collections. One that is thin and even for warm climates, and another, a comfortable and thick design, for cold spaces. These fabrics are called Berber rugs and are made of heavy wool, of the sheep of the Atlas Mountains, as well as some hair from camels. Many different types of Moroccan rugs are available though, and they are generally made of either wool or a cotton and wool melding.
With gorgeous coloring and various types to choose from, the only limit is what you desire for your home or office. Moroccan rugs continue to gain popularity today, and show no signs of slowing down.
If you own a Moroccan rug, or plan to, NYCleaners is here to help you keep it looking like new. Your rug will maintain its durability for years to come.
Read more about Moroccan Rug Types