Minimising the spread of Coronavirus is essential during the coming months. Office disinfection is vital when it comes to keeping your workers and clients healthy. It's all about individual responsibility when it comes to preventing the spread of viruses and bacteria.
NYCleaners provide 100% Eco-Friendly disinfection services, utilizing steam and spraying equipment and professional knowledge to make sure that you can rest easy knowing your office is absolutely as clean and safe as possible.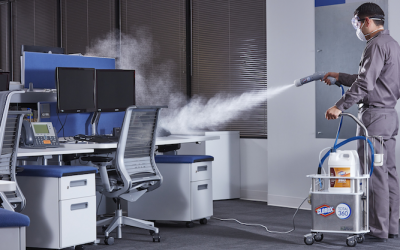 Disinfection of Office Furniture
Office furniture is highly likely to be contaminated. Employees sit on their chairs and have their hands on their desks all day. Hence, whatever germs they are carrying with them are also present on the furniture of your workspace. While you must have the staff to regularly dust and wipe surfaces in your office space, regular cleaning is not enough to remove viruses and bacteria.
We make sure to provide complete office space disinfection. From disinfecting sprays to chemical sterilizers, we have everything to make sure that you and your employees stay safe.
Disinfection of Sensitive Equipment
While you may obviously have a cleaning staff that regularly dusts the office chairs and desk, it's not enough for thorough disinfection. Think of the switchboard, plugs, wires, monitor screens, and laptops. Your employees touch them every day, yet there is no regular cleaning for these things.
We have special tools and cleaners to disinfect keyboards, laptops, monitors, and CPU. We ensure to provide safe disinfection services for all the electronics in your office.