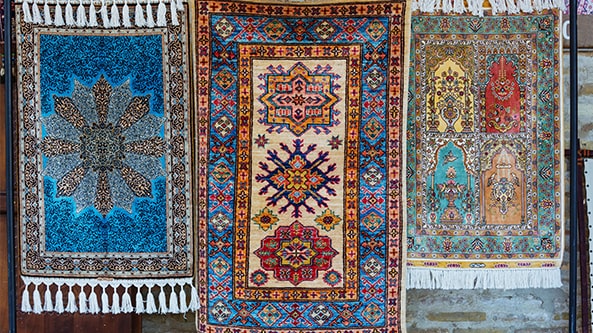 What an influential and beautiful rug style is the Bokhara! The very distinct shapes used in the fabric, the origins, and much more combine to create this special design. If you've been wondering what a Bokhara rug really is – and maybe even dreaming of owning your own someday – then you've come to the right place.
The Backstory of Bokhara Rugs
Bokhara rugs hail from the Uzbekistan area, and it can be slightly confusing, because this type of carpet has many different designs. The Bokhara has been around for many hundreds of years, and gained popularity in this middle eastern location. Several hundred years ago, many of these carpets were made by those who wandered from place to place. This greatly influenced the designs, which we will now consider.
The Design of Bokhara Rugs
Red is a major color associated with Bokhara rugs, as are white and green, in a fairly muted palette, according to rugknots.com. Each carpet is uniquely created, with its own flaws, which made every piece special. This was due to different creators using various materials that were available to them at the time. Rugknots also tells us that the graphic shapes used in these carpets create an echo design around the whole fabric. It is very easy to spot a Bokhara because of this.
A carpet like this would be the right match for anyone looking to preserve something that is both a key to the past and a lovely item for the present. There are even some designs, like the Princess, which are used for prayer purposes. So, looking incredible in a home is not their only use. Be sure to take a good look at Bokhara rugs.