Disinfecting and Sanitizing
The outbreak of Covid-19 has caused a lot of trouble for households and workspaces. The need to maintain proper disinfection is more crucial than ever. Bringing in competitively-priced disinfection service to get the job done quickly and with minimum fuss can be a massive weight off your mind.
Contact NYCleaners to get professional disinfection services in NYC. Our disinfection process will ensure the complete destruction of 150+ types of viruses and bacteria.
Disinfection for Office Spaces
Disinfection involves the destruction of bacteria, viruses, and other germs of all surfaces that come in contact with workers. 
We can guarantee a reliable and reassuringly deep and effective sanitizing for your office or commercial property. Services we offer include:
Spraying using EPA-Registered Disinfectants 
Tile and grout disinfecting and sterilizing 
Upholstery disinfecting and sterilizing 
Floor disinfecting and sterilizing 
Deep steam sanitizing for carpets and curtain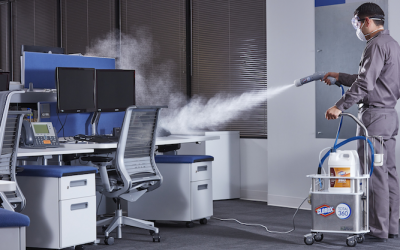 Even after disinfection, there are chances that some germs can survive. It is your duty to ensure that you and your staff remain completely protected from COVID-19. Our sterilization process allows the elimination of viruses and other pathogens. We use EPA-registered sterilizers that are safe and non-toxic.
Disinfection of Residential Properties
Disinfection spraying your property can be a massive weight off your mind, especially if you've got elderly relatives or young kids. Most home cleaning equipment simply removes the top layer of dust, bacteria, viruses, mildew, mold and odors, it doesn't touch the deeper problem.
Our steam sanitizing equipment can make sure that your carpeting, upholstery, curtains and mattresses are as clean, safe and odor-free viruses and bacteria. We provide expertly trained and experienced personnel to perform sanitizing with a full understanding of the Coronavirus risks and dangers.
Disinfection spraying
Average rating:
15 reviews
May 4, 2020
Get your home/office disinfected by NYCleaners
From the second that I set the first call, everything was simple and quick. The owner conveys well, is dependable and legit. While it might appear to be costly at first, but it's totally justified, despite all the trouble for genuine feelings of serenity that you're in acceptable hands. In the situation like today, get your homes/offices disinfected by NYCleaners and you won't regret it, I can guarantee.
May 4, 2020
Apartment building sterilized
I am so glad to have unearthed NYC cleaners and the astounding staff. Having a help that you can depend on, takes care of business, and is point by point down to the planks of flooring isn't a simple thing to discover. They got my apartment building sterilized along with steam cleaning of all the carpets. The rates were very reasonable and the service was just fantastic. I hire them regularly for cleaning purposes now.
May 3, 2020
4-unit complex cleaned and sterilized
NYCleaners and the staff got my 4-unit complex cleaned and sterilized post-construction. I've utilized companies previously and I am exceptionally satisfied with the general understanding and nature of work NYC did. I am so impressed that I now call them on contract bases and they never disappoint me in providing contract sterilization services.
May 3, 2020
Disinfecting & sterilization
It is difficult to track down incredible assistance and individuals that invest heavily in their work. If you've quite recently finished any development/renovation work, I can't suggest NYCleaners enough. They do their work wholeheartedly. Disinfecting &sterilization is one of the best services that I can guarantee you from them. Try for once at least.