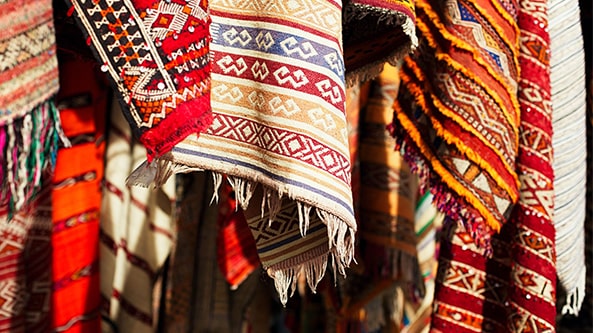 Where Do the Moroccan Boujad Rugs Come From?
If you study Moroccan rugs, you soon learn that the area of Morocco known as the High Atlas Mountains is the home of some of the most famous and familiar, including the Moroccan Boujad Rugs. Made in the Haouz region of the mountains, it means the rugs are produced by tribal peoples living between the Atlantic Ocean and the Middle Atlas mountains. Historically, they were made only by the women of the tribe, and this tradition continues today.
What seems to set the Boujad rugs apart is their use of incredibly vibrant colors like purples and oranges, bright reds and bold pinks or saturated turquoise hues. .
The rugs often depict common motifs but are also know for their many references to spiritual beliefs, marriage and everyday rural lifere.
What Moroccan Boujad Rugs are Made Of
With a medium and somewhat dense pile, these gorgeous rugs are made of ultra soft wool and use only natural dyes to create their unforgettable patterns. They are thought to be some of the most whimsical and variable of all Moroccan rugs, and designs and patterns are often passed down through the generations.
How to Care for Moroccan Boujad Rugs
If you were to ask the maker of a rug how to keep it clean, they would say that it was a good idea to take the rug outdoors every 30 days, shake it to eliminate dust and debris and then rinse it in a river before laying it flat to dry completely. Unfortunately, a mountain spring and open meadow is not usually readily accessible.
Moroccan Boujad rugs require specialized care. At NYCleaners, we have expert staff who are well-versed in the care and maintenance of valuable rugs, so if you have questions, or need a professional treatment, get in touch with us. We'll be happy to assist you.