Any household lucky enough to have Persian handmade rugs on the floor understands how important it is to keep these rugs clean. Handmade rugs are fashioned by skilled artisans who knot wool strands on a loom to create the incredible colors and patterns that these rugs display. Unlike rugs that come from commercial looming machines, handmade rugs take months, or even years, to complete. The size of the rug and complexity of the pattern will determine the length of time involved in making it.
However, as with any floor covering, handmade rug cleaning will be required at some point. Not only will the colors of the rug be dulled by grime, but the fibers of the rug can be damaged, leading to worn spots and holes. In addition to dirt that has been tracked in, your handmade Oriental rug could also be harboring flea eggs, animal dander, and dust mites. Stains such as pet urine or beverage and food stains can mar the beauty of the rug.
Organic Cleaning Products
A handmade wool rug needs to be treated quite differently than would one made of polyester or other synthetic materials. Upon examining your rug we will determine which cleaning method will provide the safest and most thorough cleaning. Because we use organic, green cleaning products your handmade Oriental rug will sustain no damage during cleaning and will be returned to you not only beautifully clean, but smelling fresh.
Depending upon the condition of the rug, we might use dry cleaning or pressurized hot water to clean your rug. In many ways, our cleaning process mimics the way handmade rugs are cleaned in their countries of origin , where these rugs are washed in traditional ways.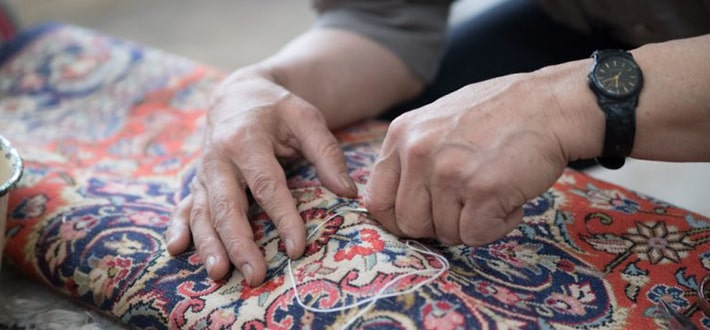 Handmade Rug Cleaning
Average rating:
5 reviews
Dec 22, 2020
I got my handmade rug back today
I got my handmade rug back today which I bought 10 years ago and has never been cleaned. I couldn't resist telling you that I was dazzled to see it resembling the same as I bought it. The price quote for the service was also reasonable. Services can't be better than this.
Dec 22, 2020
they brought the rug back to life
I gave them a high quality handmade Turkish rug that had been peed on widely and afterward put away in a trash container for a very long time. I had next to zero expectation that they could spare save the rug. But they surpassed my expectations by restoring it as perfectly as it was the day when I bought it. In addition to the fact that they brought the rug back to life, however they likewise didn't charge me an extra penny. I would strongly recommend NYCleaners to anybody with a precarious rug issue.
Dec 22, 2020
handmade rug cleaning experience with NYCleaners
Just to follow up on our beautiful & rare handmade rug cleaning experience with NYCleaners. Right off the bat, I want to state how excellent was the service I got. I & my wife are extremely content with how we were dealt with and discovered everybody to be friendly and obliging. We are likewise extremely content with how the rug ended up, and, astonished at how you had the option to get out the intense/huge stains. Our commendations to the specialists!
Dec 22, 2020
the service was fabulous and my handmade rug was cleaned impeccably
From start to finish, the service was fabulous and my handmade rug was cleaned impeccably. NYCleaners is highly preferred for the next time too.